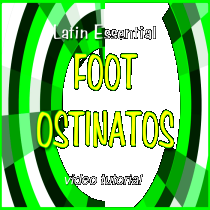 'FOOT OSTINATOS – Latin Essential' [VIDEO METODO]
The ultimate video tutorial including the main Afro Cuban and Brazilian rhythms (Samba, Tumbao, Baião foot ostinatos with snare exercises). More than 2 hours/8GB video to improve coordination and independence between hands and foot – More than 90 exercises with charts to develop your drumming with many different solo phrases.
For more details CLICK HERE
'HOW TO PLAY BLUES & SHUFFLE BEATS' [VIDEO TUTORIAL]
The ultimate tutorial drumming video in english language. Complete video footage realized with professional cameras and detailed drum transcriptions. A good way to learn quickly and clearly this fundamental style of music.
For more details CLICK HERE
'HISTORY AND TECHNIQUE OF AFRO & AMERICAN STYLE' [drum book + CD ROM]
The method includes a detailed introduction outlining the historical background of each style discussed [Blues, Reggae, Funk, Disco '70, Hip-Hop / Rap, Rock-Metal, Afro-Cuban, Brazilian, Jazz],musical transcriptions and an audio CD with 155 rhythms plus 46 minus-one. In English and Italian language it's published by Carisch in various European Countries and distributed online by Music Sales Group.
For more details CLICK HERE

'FUNK FOUNDATIONS' [DRUM & BASS LOOPS] 
Over 1 GB of material professionally produced and distributed by Big Fish Audio (California-USA), made up of 664 funky drum and bass original loops. Recorded in various tones, in tempos ranging from 60 to 140 bpm, all formatted in REX, Apple Loops and acidized in WAV format. All recorded by Andrea Ge on drums and feature on bass the best session player of the italian scene as: Fabrizio Palermo (E.Ruggeri), M.Bigi (B.Antonacci), G.De Martino (Warwick clinician), Geppi Frattali (Zucchero, Joe Cocker, Solomon Bourke, Blues Brothers, Alberto Fortis, The Menphis Horns), A.Perini (Tricarico, Trip) and R.Tiranti (Labyrinth, New Trolls). For more details CLICK HERE

'G-FORCE  DRUMS' [drumloop CD]

 
A Best Seller – produced and distributed by the prestigious Californian label Big Fish Audio. Audio CD and CD Rom (Waw / Acid) more than 500 between rhythms and fills for a total of 74 minutes. They can be used in various musical programs (Cubase, Pro-Tools, Acid etc.) both on PC and on Mac. Recorde with different drumkit and snares, some loops feature reverb, some don't; but all are serious rock! If you need rock drumloops, don't let this one slip through the cracks!
For more details CLICK HERE

'HIP-HOP REFILL' [Hip Hop Loops & Sounds – Reason Refill]

 
This joint is so packed with the hottest Hip Hop, you gonna have to just sit yourself down and wipe the sweat off yo' brow before you pass out! Over 400mb of raw Hip Hop construction kit beauty! 67 Reason songs, all juicy and ready for you to customize with your own wicked style.
For more details CLICK HERE