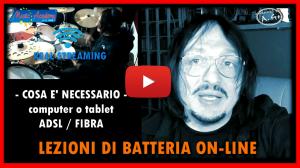 BASIC – ADVANCED – PRO
ADVANCED EDUCATIONAL PROGRAMS, BACHELOR OF ARTS (Level 6 – corresponding to a three-year university degree), international certification with ACHIEVEMENT OF EUROPEAN DIPLOMAS (level 2-3-4-5 EQF), EXAM PREPARATION FOR LCM (assessed and issued by the University of West London and administered by the London College of Music Examination), ROLAND V-Drums COURSES … and much more!
TECHNICAL REQUIREMENTS FOR ONLINE CONNECTION – click here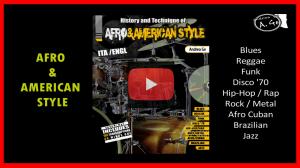 DIFFERENT DRUM STYLES
All the main musical styles: BLUES, REGGAE, ROCK, SWING, FUNK, RAP,and METAL (also double pedal), LATIN (Afro-Carribean and Brazilian), learning history, technique, rhythms with charts, audio, video … and much more!
DRUM TUTORIALS (audio, book and video for all levels) – click here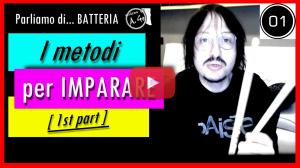 MUSIC THEORY
RHYTHMIC SOLFEGGIO, IRREGULAR FIGURES, CUTTING TIME, JAZZ INTERPRETATION, PERMUTATION, METRIC MODULATION, RHYTHMIC ILLUSIONS, POLYRHYTHMS, SIMPLE, READING and WRITING CHARTS with simple and clear method.
DIFFERENT DRUM STYLES – click here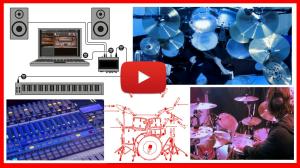 MULTIMEDIA MUSICIAN
BASIC STUDIO (notions about mixer, microphones, sound card with practical home recording tests), LIVE PERFORMANCE (all aspects related to live: from equipment, to instrumentation, use of monitors, in-ear, sequencers etc.), BASIC MARKETING and BUSINESS (the fundamental rules to create your own story as a musician, obtaining concrete results).
MUSIC AS A PROFESSION – click here
INFO
Music Academy Tel. +39 051/63.13.706 – Email info@ma2000.it
INFO ABOUT THE TUTOR
ANDREA GEAndrea Ge born in Milan, is a professional drummer. He studied at the NAMM school in Milan with Italian superstar drummer and instructor Tullio De Piscopo. Over the years, he has gained extensive studio and live experience, in genres ranging from Blues to Hard Rock, from Melodic Pop to Hip-hop. He appears on numerous albums and singles and has collaborated live or in studio recording sessions with well-known national and international artists/bands playing more than 2000 live gigs all around Europe. He has taken part in well-known national TV shows and he has to his credit many reviews and interviews on music magazines. He released a drum method "History and Technique of Afro & American Style" distributed in Europe by Carisch, 2 drum loops CD: "G-Force" and "Funk Foundations" with the prestigious label Big Fish Audio (California-USA) and he released the video tutorials "How To Play Blues & Shuffle Beats" in italian and english language and "Latin Essential – Foot Ostinatos". Currently he is drum educator for Music Academy.eu in Bologna and endorses: LUDWIG (drums), PAISTE (cymbals), TYCOON (percs), VIC FIRTH (sticks), REMO (drumheads). Official Website – Official YouTube – Official Facebook – CLICK HERE TO SEE HIS STORY IN ENGLISH